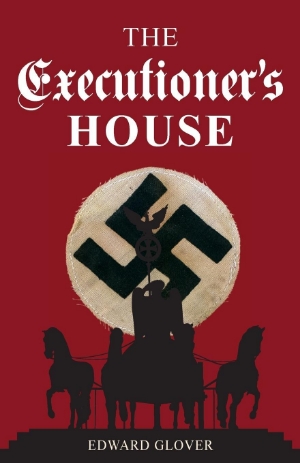 Against the backdrop of war-devasted Berlin and the continuing search for former Nazis, their brief affair and a mysterious black notebook make them unwitting pawns in a deadly game of intrigue and betrayal played by British and Soviet intelligence.
What wartime secrets will the notebook reveal?
Who else will become a victim of the battle for its possession?
In this gripping new novel, Edward Glover – a former senior British diplomat posted to Berlin – brings this suspenseful story vividly to life.
Rated 5 Stars on Amazon
"Edward Glover does not disappoint. This excellent novel based on war-torn Berlin will hold the reader's attention to the last page. The combination of the descriptions of this enthralling city and the page-turning fictional story of intrigue and secrets, love and betrayal, hope and despair makes this a truly gripping narrative."
"A love affair amidst the lethal background of the intrigue of the British and Soviet intelligence … Written with an authentic authority The Executioner's House will not disappoint the reader whatever his interests."
"Historical fiction at its tantalising best, Edward offers suspense and excitement in a tale of espionage depicting the many strands of human nature – lust and treachery. He provides a genre of literature that is, arguably, comparable to the many great classic works of spy fiction. The Executioner's House is superbly written."
The following extracts provide a glimpse of The Executioner's House and some of the characters to be found inside.
" . . there were still ruined buildings, still piles of rubble, albeit now diminished in size, and still traces of the pungent smell of death. She observed there were more people about, more traffic and some of the shops damaged during the war had reopened. Yet she still perceived hunched haunted figures who looked down as they navigated the streets, like ghosts in a city of the dead, a city with its once proud spirit still entombed in a landscape of destruction and ugliness."
"Hearing a faint sound, Fortescue turned towards a half-open door. He pushed it slowly, his pistol cocked. Hanging from a hook in the ceiling beam was the body of a man, swinging slightly. The body was naked apart from a blood-stained German army cap on his head. The victim's hands were tied behind his back and his mouth stuffed with paper. Around his neck hung a piece of cardboard on which had been scrawled in blood, I am a coward.
"As he waited for her reply, he studied her face in the flickering shadows of the fire. She had high cheekbones and finely drawn lips. Her skin was like porcelain. Her green eyes, piercing, constantly probing, the lashes emphasised by mascara, were almond-shaped beneath strong eyebrows. Her shoulder-length hair was pinned back in the fashion she had worn it the night before. Her lipstick was dark red – perhaps too dark, he thought. He observed how she crossed her long slender legs without her delicate hands pulling down the hem of her dress. The vulnerability and anger he had seen the previous night had disappeared, or perhaps it was hidden behind a mask of insouciance. The clock in the room ticked; a murmur of wind outside; the fire crackled as he threw on another log. Shedding her high heels, she tucked her legs beneath her and took a long draw on her cigarette. She gave the impression of self-confidence in the task he had set her."
"He eased the book from its concealment. The cover bore a silver imprint of the SS symbol. Beneath it were the words Most Secret. On the inside title page was written, in thick black ink:

Information Gathered for the Attention of Reichsführer Himmler

He silently turned a few of the pages. They appeared to contain a list of tightly written entries in some form of code. Each entry was in a format that might suggest names and other details. The code format was vaguely reminiscent of one he had seen in a document that passed across his desk in Nuremburg early in his assignment."
"Whatever you're up to, be careful, Richard. We don't have many friends in these parts."

"Why do you say that?" asked Fortescue.

"This country is broken. Life is hard. This city, like other places in this defeated nation, has many people with a past to hide, a score to settle or those looking for information to sell. You and I and the rest of us are rich pickings. We're worth money to someone else. Just be careful if you're flying solo, which I suspect you are."

Fortescue smiled. Pritchett had a copper's nose for trouble."
". . . Nolan sat down behind a large uncluttered desk, a single file in front of him. To Fortescue, his unsmiling face and gimlet eyes behind steel-framed glasses added to the impression of a humourless inquisitor. He was the archetypal image of a Reich senior official. His appearance, and the starkness of the wood-panelled room, would have easily fitted the descriptions of Gestapo interrogation sessions recounted by witnesses to the tribunal.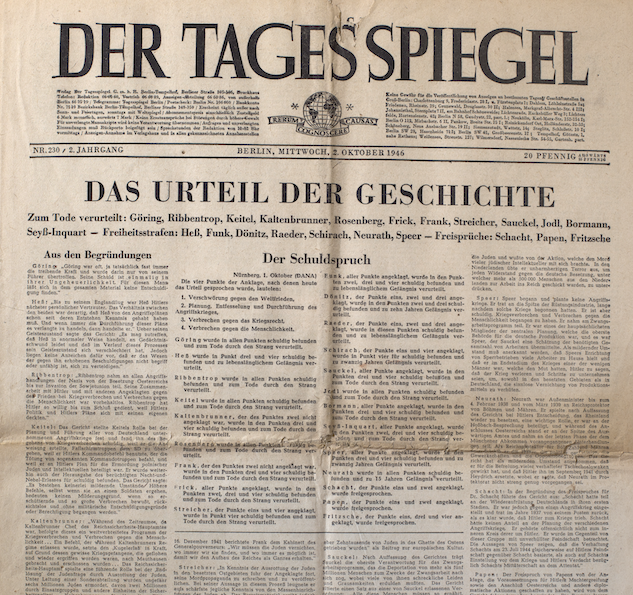 ". . . Light snow began to fall, adding to the city's dismal profile. He glanced through some old newspapers on the windowsill, including an edition of Der Tagesspiegel of 6 October reporting the sentences passed at Nuremberg across which someone had scrawled an indecipherable expletive."
News about this book
Last year, I sat watching some grainy film footage of the Nuremburg war crimes tribunal in the building where it all happened. It was 27 years since I had left my Foreign Office posting in Berlin, during the last years of a city split by a hateful wall. Playing my part in exercising Allied right…