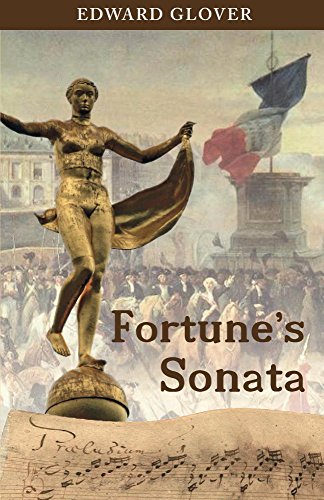 Following her marriage and the start of a new life at Schloss Herzberg, the English-born Countess Arabella von Deppe is in peril from those envious of her position and jealous of Frederick the Great's high regard for her musical talent and beauty. Her adviser and protector is the King's shadowy spymaster and bloodstained fixer, Waldemar Drescher – whose methods and loyalty to his royal master occasionally make him one of the very risks and dangers against which he cautions Arabella to be constantly vigilant.
The second volume in a compelling trilogy, Fortune's Sonata ends with an intriguing mystery that sets the scene for the final book, about two families on the road to the First World War.
The following extract provides a glimpse of Fortune's Sonata
"Arabella turned once more to look at the figures on the ice but they were suddenly enveloped in mist wafting towards the inn from the lake. Soon there was nothing to see; she could only hear the muffled sound of pistol shots. She crossed herself.

"Holy Mary, please protect me and my son."

As she breathed these words, they seemed to hang in crystal patterns in the freezing air.
Arabella stumbled through the snow towards the inn, half frozen by fear and the bitter cold. The mother of a young child whom she would fiercely protect, she was now more resolved than ever, whatever the danger, to live her life as she wished it to be and not as others wanted – a resolution she had written in her music book at Meltwater, a resolution she would now pursue with even greater determination. To do so would require tireless strength, constant vigilance for the malevolence of others, and the even rarer award of personal trust. But they would be tempered by an equally unbreakable commitment to the medium of music and through it the pursuit of true happiness, not just for her but for all within her compass.
In the fickle world of the late eighteenth century, buffeted by winds of fate beyond her control, the Countess is confronted by deceit and treachery, war and death, love and loss. Each danger, each setback only serves to fuel her will to survive against all odds the hand that Fortune deals her. Against the bloody backdrop of Frederick the Great's court, the French Revolution and the Napoleonic Wars, Arabella's tumultuous life spans four decades and four countries – Prussia, Russia, England and France – bringing her face to face with Prussian kings, a Russian empress, Mozart and Beethoven.
"In three days' time I am going to inspect Sokolov's regiment – the Preobrazhensky Guards. It is one of the rare occasions when I can wear a man's uniform and ride astride. I would like you to ride with me, in uniform, as my honorary equerry."
Arabella was speechless.

"But Majesty, that would surely be impossible and would lead to great and adverse comment. You surely do not want that?"

"On the contrary, Arabella," replied the Empress, using her name for the first time, "I would very much like it. I am surrounded by men. It would be so amusing to see my officers' faces when another woman joins their Empress on the parade ground. I am sure Sokolov would enter into the spirit."

Arabella again advised against it but the Czarina interrupted.

"Enough, Countess von Deppe, I have decided. You will join me at Tsarskoye Selo. Besides, I am reliably informed that you masqueraded as a French officer on the last part of your journey to Potsdam."

Arabella froze. How could the Empress know that?

In the midst of her struggles, this remarkable woman, with strong desires and a sensuality that men find beguiling, is still driven by her search for love, even if the closeness of skin to skin might end in heartbreak and harsh recrimination. But overriding all is her pursuit of equality for the weaker sex based on her principle that she will do what others want but only as she wants it to be.

Arabella ceased playing. She turned to Gray.

"Are you always so bold with women, Mr Gray?"

Her eyes were dark but rich in expression. Encouraged by her response, he again placed his hand on hers.

"With you I am," he replied with a smile.

That is plain to see," Arabella rejoined.

There was silence as they looked at each other. Then Gray leaned towards her, his eyes fixed on hers. He kissed her cheek. She gave no response. Again he looked at her intently and taking both her hands in his he kissed them. She did not withdraw her hands from his.

"Perhaps, Mr Gray, we should say goodnight."

"Of course," he replied.

They went upstairs, side by side; his hand brushed against hers. They spoke not a word.

But it was music that above all inspired and consoled Arabella von Deppe, an accomplished singer and musician and founder of her own chamber orchestra, particularly in her darkest moments.
After the first chorus, Arabella stood and moved to centre stage – tall, graceful and slim, despite the birth of her recent child, her hair loosely tied back. In the candlelight there was a lustrous mother-of-pearl gleam to her skin. She sang, in German, with effortless grace, each note cascading through the air, transfixing the audience.

The audience were visibly astounded. The King, a musician of note, watching secretly from the organ loft, thought Arabella's lyrical interpretation exquisite – translating unlike any German singer he had heard the ordinary into the sublime. Her soft beauty, framed in the candlelight, the way she held the libretto, the way she lifted her voice so that it floated gently down the nave like softly falling snow, conveyed self-assurance tinged with a touching trace of physical vulnerability.