Author Biography: Edward Glover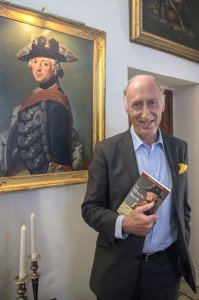 Edward Glover CMG MVO was born in London. After gaining a history degree followed by an MPhil at Birkbeck College, London University, he embarked on a career in the British diplomatic service, during which his overseas postings included Washington DC, Berlin, Brussels and the Caribbean. He subsequently advised on foreign ministry reform in post-invasion Iraq, Kosovo and Sierra Leone. More recently, for seven years he headed a one-million-acre rainforest-conservation project in South America, on behalf of the Commonwealth Secretariat and the Guyana Government.
With an interest in 16th- and 18th-century history, baroque music and 18th-century art, Edward was encouraged by the purchase of two paintings and a passport to try his hand at writing historical fiction. His first title The Music Book is a story of intrigue, betrayal, revenge, death and redemption, set in 18th-century Europe. The sequel Fortune's Sonata follows a beautiful English-born countess and a murderous spymaster as they come face to face with a scheming Prussian king, a deadly Russian empress, and even Beethoven and Mozart. The final book in this Herzberg Trilogy, A Motif of Seasons, tells the story of three women who, against the backdrop of the approaching First World War, seek to escape a patriarchal landscape of social straitjackets and dictated norms.
Edward's fourth book, The Executioner's House, is a story of intrigue and betrayal played by British and Soviet intelligence in post 1945 Berlin.

Edward and his wife, former Foreign & Commonwealth Office lawyer and leading international human rights adviser Dame Audrey Glover, now live in Norfolk, a place that gives him further inspiration for his writing. Edward sits on the board of trustees for Size of Wales, is vice-chairman of the Foreign & Commonwealth Office Association, an associate fellow of the University of Warwick's Yesu Persaud Centre for Caribbean Studies and a board member of The King's Lynn Preservation Trust.
When he isn't writing, Edward is an avid tennis player and completed the 2014 London Marathon, raising over £7,000 for Ambitious about Autism.