Reflecting on five novels in five years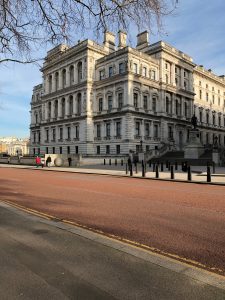 To write five novels in five years has been – for me – a remarkable journey of discovery. I've found a new and deeply rewarding profession that complements my other ongoing activities (diplomacy, the environment and the preservation of buildings in King's Lynn of historical and architectural merit) and provides a new and refreshing means of expression after years of writing dry policy papers and briefs.
Moreover, my storytelling since 2013 has provided the opportunity to draw afresh on my memories and experiences of a deeply satisfying and varied career with the Foreign Office (pictured) and to recall observations of human nature – at its best and at its worst. In addition, each book not only has strands of history, drama and music intertwined with my love of art in all of its forms but also – just as important – strong central female characters.
And the five books have spanned three genres – historical chronicle (the Herzberg trilogy) spread over 153 years of European history ending in 1918; a modern story of betrayal in war-torn Berlin in 1946/7 against a backdrop of British and Soviet intelligence rivalry (little has changed since then); and now – in The Lute Player – fantasy and obsession.
What to write next? There'll be a decision about that before too long…