The photograph below shows the main entrance to the building in Nuremberg where senior members of the Nazi regime were tried for war crimes and crimes against humanity. The process began on 20 November 1945 and ended on 1 October 1946, with those sentenced to death executed by hanging 15 days later.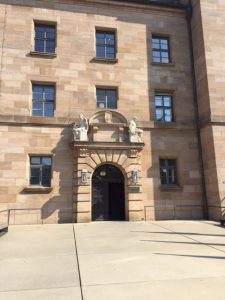 As my wife and I stood in court room 600 on the first floor on Sunday 11 September this year shafts of sunlight penetrated the room. Though still used for trials today its basic layout is the same as in 1945 – the defendants on the left in the box, their defence counsel in front, the judges facing on the right and the prosecuting counsel at right angles to the bench. As we stood close to where Goering, Hess, Frank, Ribbentrop and others had sat facing judges from the United States, the Soviet Union, the United Kingdom and France (two judges from each of the four victors and occupying powers), the room still had a chilling atmosphere.
On the floor above the courtroom is an impressive and thought provoking permanent exhibition giving the full history of the trial (and the subsequent ones in Berlin of subordinates) and the steps thereafter over many decades leading eventually to the formation of the international courts to try offences committed in the former Yugoslavia and Rwanda and ultimately to the formation of the current International Criminal Court.
Afterwards we went to see the ancient St Sebaldus church badly bombed by the Allies in 1944, but where citizens continued to worship under open skies until the church was restored. Later we went to visit the house of Albrecht Dürer, the acclaimed artist and engraver (1471–1528), and after that to the Imperial Castle overlooking Nuremburg. Two days before we went out in a large boat on the Starnberger See (an hour out of Munich). That evening I photographed the opera house in Munich where I went one evening in 1985 to watch a performance of Wagner's Tristan und Isolde while studying German before my next diplomatic posting in Berlin.
Despite having only just completed the final volume in the Herzberg trilogy, the purpose of this visit – and to the court house specifically – was to research the backdrop to my next book, and collect sufficient material to begin writing in the weeks and months ahead.